Art Creates Intergenerational Dialogues
Imagine a Better Future by Creating a Sustainable and Regenerative Path Forward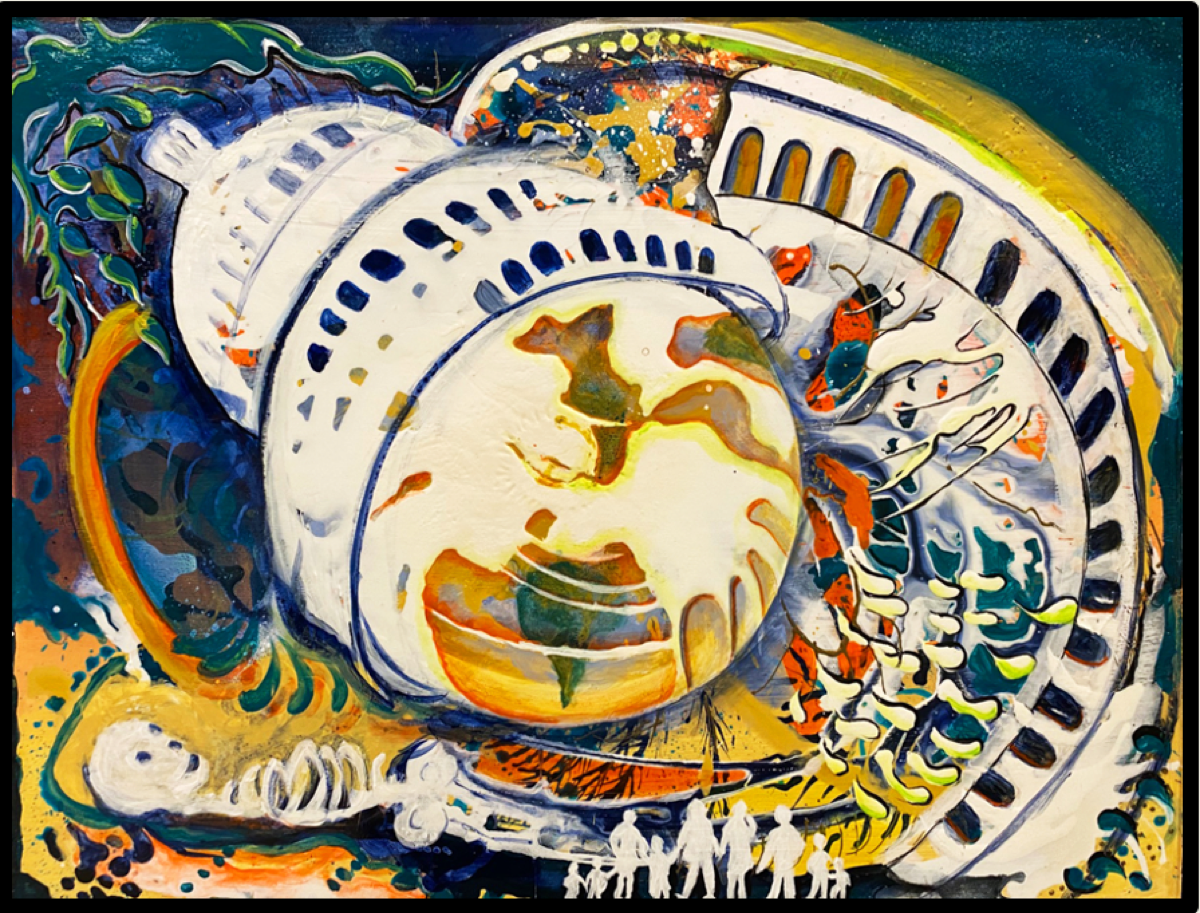 "I have always painted beautiful pictures. But, one day I created a new technique for putting down a substrate or first layer. After the paint mingled and dried, I clearly saw a White House splintered apart. I also saw our Mother Earth peeking out but contained within this broken White House."
"These elements were so clearly visible. I felt the piece was begging me to interpret what I saw on the canvas." Ruth Westreich, 2020
"We come together to envision a better world, one where we confront the immensity of the challenge of creating a paradigm shift, and promoting care for our common home." ~ RW
"I am an activist and philanthropist, but I had never integrated my art into my activism and philanthropic mission. I know that art has the ability to affect people in a very deep way."~ RW
"I am an activist and philanthropist, but I had never integrated my art into my activism and philanthropic mission. I know that art has the ability to affect people in a very deep way." ~ RW
"My intent for this project is to create discussions to disrupt the New Normal of unsustainable choices that have been thrust upon the people and the planet." ~ RW
"By touching people's heart through art, I hope others will become committed to becoming part of the solution" ~ RW
"Artists communicate their thoughts and feelings through their works. Activist art can open the door to having 'Conscious Conversations of Consequence' that we must have as a collective to grow grassroots movements for paradigm shifts." ~ RW
How do we regenerate our planet and every living thing on it and in it?
How do we advance positive change and revive hope?

Embrace the enormity of the global issues
Intergenerational conversations and learning
Engage and accelerate the aspirations of young people
Elders accepting responsibility for their part in compromising our planet

Hold space for independent science to co-exist and be heard
Adopt the philosophy that we can 'Do Well While Doing Good'
Have a sense of shared prosperity
Ruth Westreich Gallery Exhibit, University San Diego Care for the Common Home Art Exhibition
The University of San Diego and The Nonprofit Institute in SOLES collaborated with Ruth Westreich and the Westreich Foundation to provide a unique platform for an intergenerational dialogue on climate change and other critical issues that we face in building a better world for future generations.