Books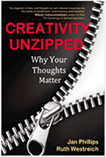 Creativity Unzipped –
Why Your Thoughts Matter
This new book by Jan Phillips and Ruth Westreich is a synthesis of stories, science and social research that will forever change your thinking about yourself as a creator.
Order Yours Now!

Finding Ourselves
on Sacred Ground
A creative project by two photographers who commit one week a year to seeing their world with thoughtful eyes. This hard-cover coffee table book may be purchased at www.janphillips.com.
About the Artist
Ruth Westreich, trained as an artist and designer, is a talented mixed-media artist. Over the years she has worked in many different mediums from oils, to glass and water media. Most recently, she has developed an interest in fine silver jewelry design and fabrication.She was told early on as many of her fellow creatives were told, that she needed to pick another field of study as she would never be able to make a living painting, and in the 1960s there were very few successful women artists. Alternately, she trained in Marketing and Marketing Communications, where she was still able to use her creative and design skills. She developed a specialty niche in high-tech, promoting space products and eventually morphed into a successful strategic marketing career.
About 20 years ago, she was given an opportunity to oversee her own private family charitable foundation, The Westreich Foundation.
Her focus in her own life had always been prevention of disease and creating health and wellbeing through nutrition with less emphasis on our conventional medical model of waiting until you are in disease, then treating it with surgery or a pharmaceutical. Her foundation has been instrumental in helping move integrative, palliative, natural and functional medicine forward to change the paradigm of how healthcare is delivered in our country.
She believes that the process of making and doing art, whether it be visual art, drama or writing, can be part of the healing process aiding recovery from a broken body, mind or spirit.