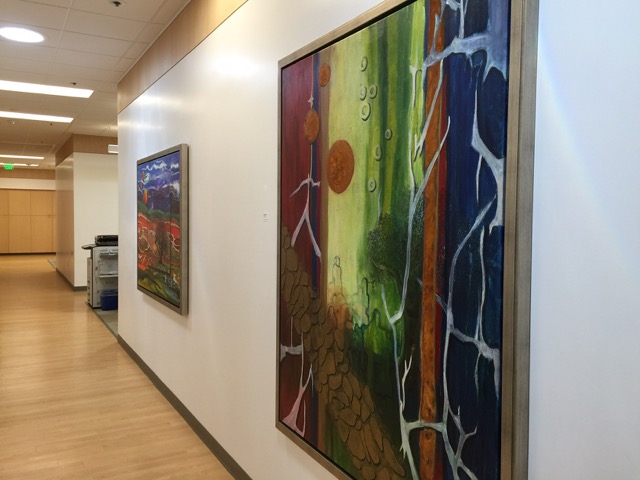 Why am I giving my art away to deserving nonprofits who are willing to take the time to write to me as to why having good art on the walls would be inspiring to their mission and the people who work there? In all my foundation work, every time I would go into a nonprofit, I would see the same thing: empty walls, tacky prints or motivational posters.
My husband and I have a wonderful art collection, but when we downsized about a year ago we had 21 pieces that wouldn't fit into our new home and I felt it wrong to store art where no one can enjoy it. I suggested we gift it to a wonderful social services nonprofit in San Diego where we live. It did just as I suspected it would, it changed the culture of the organization. This is the power of art. Below are a few comments I wanted to share.
"I've heard clients say things like, "wow, this is my community."
"This is for us?" "Are we in the right building?"
"It feels dignified and very respectable. We are worth it."
" I look forward to my appointments not only to meet with my therapist but to come to such a beautiful place where I am met with respect and dignity."

"It's wonderful, you come to work and feel really honored to work in such a beautiful space that is a human service agency that looks like an art museum."

" I love the art, and think it greatly enriches the environment and provides an atmosphere for critical and creative thinking. I find that it helps to eliminate passivity. In many ways, it creates an environment where an emphasis is placed on "showing" versus "telling". Art is showing and allowing me to project and create a narrative to make sense of it. In comparison, "telling" would be those horrible Successories – those nature scenes with pithy motivational statements that are so commonplace in office. Anything that "tells" possesses a big brother feel and are tone deaf when a real situation evolves. And for clients, I truly think it enriches their experience, creates an environment where they feel that they are valued and anything is possible."
Application Process
Would you like to have original art on the walls of your nonprofit? The application process in simple. Write me a letter with the following:
Who you are and what you do, and for whom.
Why you think original art would add to the positive culture environment of your organization.
How you personally feel about the power of visual art.
Where are you located.
That's it.
Use my contact form, or send it to me in an email, Ruth at thewestreichfoundation.org